Lana is a new Apprentice, debuting with King Lear. You can also see her this December in EDGE Theatre's A Steampunk Christmas Carol as the Mad Madam Fizzlewig. Lana will be performing in Lear on Tuesday, Dec 13.
Q: How were you first introduced to Unrehearsed Shakespeare?
LANA: I first heard about it through my good friend Charlie Baker. We went to school together and he has been a part of Unrehearsed for a few years now. Then I was cast in Countess Bathory written and directed by Jared and I knew I needed to work with this guy more.
Q: How does Unrehearsed differ from other acting experiences for you?
LANA: It is completely different from what I am used to. In college mostly I worked with many directors who blocked us to a tee and gave us our characters' motivations. Though Unrehearsed has set rules you should follow to make it interesting there is much more freedom to do what feels natural and to find your own motivations even if they might not be perfect. I've never been in a show where I didn't have weeks of rehearsals and had no idea who was playing who until I was on stage. This is a little frightening, but mostly exciting.
Q: What, if anything, is your biggest challenge with this technique so far?
LANA: This technique relies massively on listening skills, and that has been a challenge of mine in the past with shows that have rehearsal time. It's easy to become complacent when you know what will be said and when your next cue is. Unrehearsed keeps everyone on their toes which is what I like most about it.
Q: One of the defining attributes of Unrehearsed is the lack of a Fourth Wall. How do you feel about this? How does it affect your work and/or prep?
LANA: Well in many of Shakespeare's works we often see actors performing their soliloquies to the audience, but Unrehearsed gives you more opportunities to use the audience outside of those monologues. It's almost like the audience is it's own character in the show. While I'm rehearsing my sides, I try to look for instances where I can use the audience even when my character doesn't have speeches or asides. It's also interesting to use the audience for story telling purposes, so I keep an eye out for chances to use the audience as characters for that purpose as well.
Q: What, to you, is the most intriguing thing about King Lear?
LANA: It's quite interesting that it takes Lear so long to discover that the only people who love him and have his best interests in mind are the ones that he banished just because they did not tell them what he wanted to hear. It's strange how not getting our way can skew our judgment and our trust in others.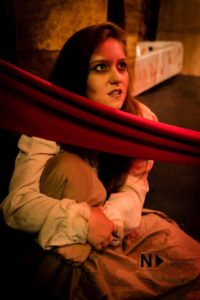 Q: If Lear asked you to flatter him, would you answer more like Cordelia or more like Goneril and Regan?
LANA: I'd probably be similar to Cordelia. I don't like to play games with people and I prefer to be honest to other people rather than let them hear what they want to hear.
Q: So what's next for you?
LANA: Come see Steampunk Christmas Carol; you will see many Unrehearsed actors and it is tons of fun. I've been in/seen many productions of Christmas carol but this one is special. You will be on the floor laughing with Christmas joy by the end.
Click here to see Lana in the upcoming A Steampunk Christmas Carol (with EDGE Theatre), or here to see photos from her recent performance in Countess Bathory (with We Three).
=====